Hello!
Whenever I can't think of the words to write a proper review, it is always good to throw the spotlight over them instead. This time it is over the Monsters of Verity duology by VE Schwab, Our Dark Duet being my most recently finished book .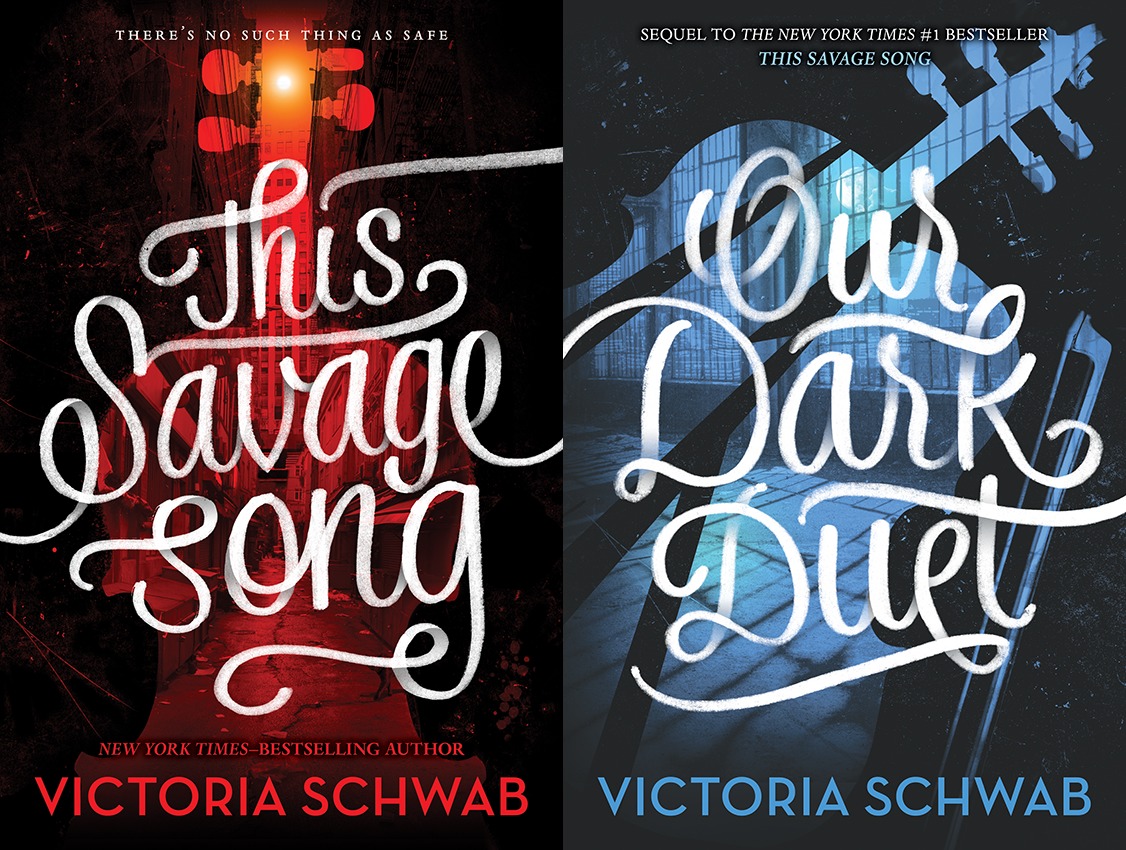 Statistics:
Format – Prose
Edition – UK Paperback
Date of Publication – 07/06/16 and 13/06/17
No of Pages – 407 and 470
Genre – Fantasy/Dystopia
Age – YA
Series – Monsters of Verity (Duology)
Author – Victoria/V.E Schwab
---
Deep in the city of Verity monsters overrun the streets, causing chaos and creating war. These monsters are the Malchai, Corsai, and Sunai, all physical reincarnations and spawns of the evil present among people. As such, they each possess their own unique methods and reasons for murder.
Instead of being one whole city, Verity is divided into halves (North and South) and separated by a wall. This wall has created two micro-cities, each one being governed completely opposite from the other. In the North, Callum Harker provides physical protection for the right price and each one willing to abide by him wears a medallion. In the South, the morally righteous Henry Flynn uses three Sunai in the hope he can rid Verity of sin and help prevent the creation of new monsters.
But it is their children and heirs to the city, Kate Harker (a human with a penchant for hunting monsters) and August Flynn (a Sunai with an identity crisis) who discover the true workings of Verity and who must join forces to understand why their world is breaking apart. Whilst struggling with their own inner monsters, they also must deal with a new monster, one they've never seen before, which feeds and thrives off chaos and violence.
---
Already familiar with VE Schwab, I went into this duology with high expectations, and I was not disappointed. I loved everything about it from the world building, to the characters, the dual perspectives and the messages of identity, sin and humanity. And as an added bonus, it is virtually romance free! YAY!!!
If I had to pick out a niggle, I think Kate's unilateral deafness could have been dealt with more realistically. She seemed to hear everything perfectly and that wouldn't be the case at all.
However I still loved this duology and Our Dark Duet definitely built on the foundations laid in This Savage Song.
If I had to have one favourite quote out of both books it would be this:
"People were messy. They were defined not only by what they'd done, but by what they would have done, under different circumstances, moulded as much by their regrets as their actions, choices they stood by and those they wished they could undo. Of course, there was no going back—time only moved forward—but people could change.

For worse.

And for better."
---
Have you read this duology yet?
If so, what do you think?
---
Thanks for reading and have a good day!
xx