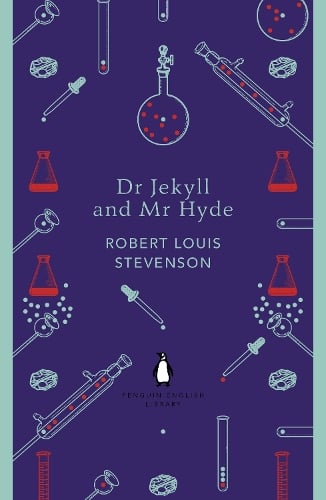 Statistics:
Format – Prose
Edition – Paperback
Date of Initial Publication – 1886
No of Pages – 111
Genre – Classics/Horror/Science Fiction/Mystery
Author – Robert Louis Stevenson
Goodreads Synopsis:
'All human beings, as we meet them, are commingled out of good and evil: and Edward Hyde, alone in the ranks of mankind, was pure evil'
Published as a shilling shocker, Robert Louis Stevenson's dark psychological fantasy gave birth to the idea of the split personality. The story of respectable Dr Jekyll's strange association with damnable young man Edward Hyde; the hunt through fog-bound London for a killer; and the final revelation of Hyde's true identity is a chilling exploration of humanity's basest capacity for evil.
Thoughts:
In Victorian London along with the craziness of Jack the Ripper, Dickensian workhouses, the Industrial Revolution, disease, overpopulation, and crowded conditions, scientific advancement is taking an absurd turn. No one knows exactly what is going on but it is sinister enough for passers-by and friends of Dr Jekyll to start asking questions
For a really short classic, it was filled with everything I love – amazing writing, an atmospheric setting, a simple yet intricate plot, mystery, intrigue, and overarching messages that make me question the fragility of humanity. Although I was marginally aware of the story's climax due to its fame and presence in popular culture, that didn't stop me from being engrossed by its development and loving it as much as I did.
It is one of my new favourite classics and it has sparked my need to finally read some of RL Stevenson's other works.
---
Favourite Quotes:
"Quiet minds cannot be perplexed of frightened but go on in fortune or misfortune at their own private pace, like a clock during a thunderstorm."
"It is one thing to mortify curiosity, another to conquer it."
"There comes an end to all things; the most capacious measure is filled at last; and this brief condescension to evil finally destroyed the balance of my soul."
"All human beings, as we meet them, are commingled out of good and evil: and Edward Hyde, alone, in the ranks of mankind, was pure evil."
"I feel very strongly about putting questions; it partakes too much of the style of the day of judgement. You start a question, and it's like starting a stone. You sit quietly on the top of a hill; and away the stone goes, starting others; and presently some bland old bird (the last you would have thought of) is knocked on the head in his own back garden, and the family have to change their name. No, sir, I make it a rule of mine: the more it looks like Queer Street, the less I ask"
Have you read this classic?
What do you think?
Thanks for reading and have a good day!
xx