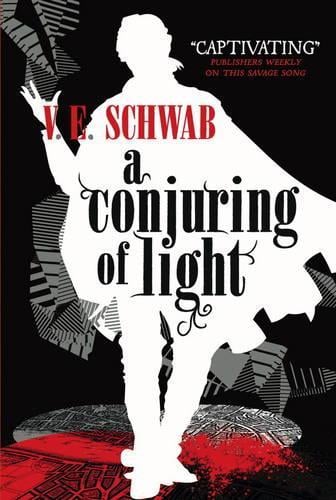 Statistics:
Format – Prose
Edition – paperback
Date of Publication – 21st February 2017
No of Pages – 666
Genre – Fantasy
Age – Adult
Series – Shades of Magic
Book No – 3
Author – VE Schwab
---
Synopsis
Across White, Red, Grey and Black London, the scales that helped to keep the power balanced are finally toppling out of control. What was once a vivacious world – ruled by the Maresh monarchy – is now turning black, the darkness intent on spreading into every nook and cranny whilst also creating space for another London to emerge.
People are living in fear, scared that their lives and everything they love will be taken over by the darkness, so it is up to Kell and the surprising addition of two other Antari to change this unwelcome fate.
What this discovery brings is the insurmountable pressure to survive. Combine that with the condition of the empire and everybody fighting for loyalty, only time will tell if more than London will fall.
---
Thoughts:
VE Schwab has done it again, creating a world full of magic, politics, intrigue, and complex characters that do nothing but suck you in and force you to keep reading until you've closed the back page.
Of course, me being me, I did the complete opposite and took time savouring everything. That might have irritated me at first, but I am now glad of it because it means I am not going to forget anything about it anytime soon. A Conjuring of Light is one of the best fantasy books I've read all year, and it is one of the best sequels I have ever read.
What I like about this book and the series as a whole is that magic is not an infinite entity, its usage in one world leaves another drained, and that is something not always explored in a fantasy. Usually, the magic is just there, there's no explanation for it or where its limits lie, so to have a magic system where there are significant consequences for every bit used is interesting and rare. It is also a great message in general, reminding us all that the resources we use and take for granted are finite. But it is not just us that learn this lesson, as Lila, Kell, Rhy, Alucard, Holland and even Osaron experience this for themselves.
The growing knowledge of magic and its limits is a superb character development, particularly for Lila as she must quickly adjust to her new identity as an Antari and pick up all the rules whilst trying to stay alive and help save the empire. For Kell and Rhy, it continues to test their bond, affecting their differing relationships with Alucard, Maxim and Emira.
I love them all equally but it is Holland and his development that touched my heart. I have a soft spot for complex, misunderstood and morally grey villains at the moment and he is no exception. All he wants is to return to his London, live his own life, not be shackled to anybody else, and be free. He was given the perfect ending and whilst it broke my heart, there was no other way VE Schwab could have written it.
On the topic of misunderstood villains, Osaron also falls into that category. Yes, he is evil, possessing Holland, turning Red London completely black so he can have his own twisted Voldemort-like strength and power, but is it not something he can control. He is a soulless form of magic that needs somewhere to expand and live. I don't condone his actions, but when faced with the selfish desire to nurture one's ability and nature, you want to do that in the best way you know how.
Two characters I have mentioned briefly but need some extra love are Maxim and Emira. A Conjuring of Light is where they really come into their own and express their love for Kell and Rhy. Their relationship is something I wish I could experience more of and I personally loved their unique point of views within the narrative. Maxim took on the responsibility for the empire and his family with a heavy heart and that protectiveness brought out a characteristic that I felt lacking from the earlier books. Emira also came into her own and I loved being able to see her trying to cement that mother-son relationship between her and Kell. Now I'm writing this, I can't stop welling up at specific scenes because I wanted to see her grow even more.
Just damn it, VE Schwab. Stop toying with my emotions because it is getting tiresome. Although it is amazing that whatever you write touches me in ways other books completely miss.
Anyway.
Everything about this book blew me away and I love it with every fibre of my being. I mean there are a few little niggles that I have in relation to certain details that crop up in the plot but they're nothing when looking at A Conjuring of Light and the other two Shades of Magic books. It is a satisfying and fabulous ending and I love it. It is certainly going to be one of the best books for this next half of the year.
---
And that is that.
Have you read the Shades of Magic trilogy?
What are your thoughts?
Thanks for reading and have a good day!
xx