Winter, folklore, fairy tales, the messages of courage and strength to follow your heart and mind, to not give in to your beliefs…. These are what I take away from The Bear and the Nightingale, and they are what have relieved me from this reading slump.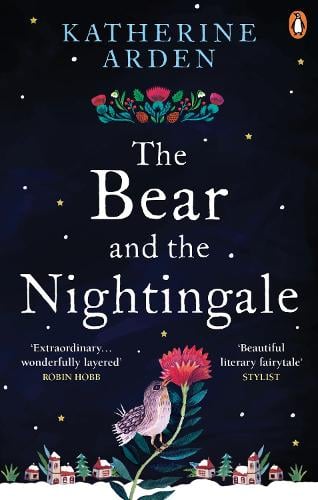 When it comes to finding the right book to read at that one moment, there is something to be said for spontaneity. What I found great about this spontaneity is that it came when I relaxed and stopped worrying about what I wanted, or thought I needed to read before the year's end. Lists and lists of books got thrown aside, torn up and thrown away because their power to inflict an even greater reading slump ceased to exist. In that moment my mind was peaceful. Peace brings a relaxed breath, silence, and sometimes it is in that silence when my thoughts are the loudest. The Bear and the Nightingale is the book that spontaneously but gently nudged its way into my conscious, and by jove was it the book I needed at this very moment.
Magic, belief, and power are three of our strongest desires and together they are untouchable. Vasya, the main character, is proof that we can remain true to what we believe, that although others may not see it, it doesn't mean it cannot be believed. Vasya is the only daughter of Petyor whose vision is wider than anyone else in her village (Lesnaya Zemlya). She believes the stories, she sees what her family and neighbours are brought up to believe, but when opposing beliefs and opinions spread throughout the village, she's witness to the harm they can ultimately possess. In this story of belief and resilience, Vasya learns what it means to stay true to her own beliefs and instincts. It's a message common in many fairytales and The Bear and the Nightingale is no different.
All my life, she said, I have been told to 'go' and 'come.' I am told how I will live, and I am told how I must die. I must be a man's servant and a mare for his pleasure, or I must hide myself behind walls and surrender my flesh to a cold, silent god. I would walk into the jaws of hell itself, if it were a path of my own choosing. I would rather die tomorrow in a forest than live a hundred years of the life appointed me.
Off the bat, the driving force of the story is the setting of medieval Russia and its culture. It is a world steeped in folklore and magic that draws you in. Even when you read the first few lines, you are compelled to know more and discover the mystery of the surroundings and the village of Lesnaya Zemlya. It does make for a slow beginning, but I certainly didn't mind. That ease of pace gave me the right amount of time to discover and feel the atmosphere of this wonderful, enriching world. It wasn't a stretch to see any of the characters giving food to creatures like the domovoi and feeding their own culture. Although completely different, it reminded me of the folklore tales I used to hear as a child (mainly the faeries of Ireland) and the superstitions that accompanied them. It's that bit of magic I didn't realised I missed until now.
Of course, the everyday character of the village believe in these creatures and the protection they provide, but it is Vasya who truly sees them for what they are. Born with the 'sight' she can see and talk to them. This makes her a part from everyone else, especially her family, even though she is loved. As a main character, I love her. In fact, I've not felt so strongly about a female main character in a long while, perhaps not since I came across Yeva in Hunted. I love Vasya's strength, her stubbornness, her curiosity, and the love she has for her family and the stories of her land. I admire that she knows what she wants but jumps in with thought as well as desire. In fact, she reminds me of Yeva except she doesn't want to fall in love with a beast, or bear.
Nothing changes, Vaysa. Things are, or they are not. Magic is forgetting that something was ever other than you willed it.
In terms of her character, what I also find interesting is the juxtaposition between her and her stepmother, Anna. Both have the 'sight' but Anna wants nothing more than to run away from it – embracing religion and believing the creatures to be demons. It's sad really as she is someone that could help Vasya understand what she sees and experiences yet Anna becomes an adversary, wanting to remove her from the village and the influence of her own daughter Irina. In regards to this, I have very mixed feelings about her. How she treats Vasya is horrible, but I want to pity her for her lack of understanding and unfortunate background. Father Konstantin influencing her to see Vasya as a witch doesn't help matters either.
However, if there were a few other characters I want to cherish and hold onto, they would be Dunya and Sasha. The relationship that both of them have with Vasya is incredible and lovely to experience throughout the book.
I do not like half answers.
Stop asking half questions then.
The story itself is beautifully told, weaving in the stories that Dunya tells as the plot furthers. It's detailed, complex and certainly one that requires concentration. I'd be intrigued to experience what it is like on audiobook but this is certainly one book I'd read in paperback to ensure full focus and immersion on the story.
With everything in mind, this is one book I won't be able to stop thinking about. It combines everything I love about fairy tales and yet it's not clear cut over what is good and evil. It reaches out to us and gets us thinking about humanity's Achilles heel – how we can all be quick to go against someone or something when a new belief system comes along. It reminds me a little of Beauty and the Beast – outcasting Vasya for her beliefs, Father Konstantin instilling fear into the villagers, sacrificing ourselves for those we love…
Perhaps that is one of the reasons why I have fallen in love with this book. Fairy tales, folklore, beautiful storytelling, that gorgeous cover! it's the perfect book for a night in front of a winter's fire, cuddled up with a knitted blanket and a large mug of hot chocolate, or whatever hot beverage you prefer. As I said above, it is the book I needed right now and I am not going to stop thinking about it anytime soon.
---
Have you read The Bear and the Nightingale?
What are your thoughts?
Thanks for reading and have a brazzle dazzle day!
xx