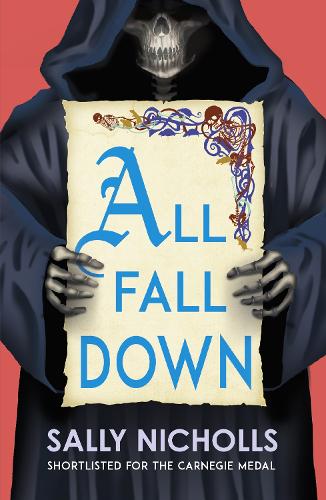 Statistics:
Format – UK Paperback
Number of Pages – 268
Genre – Historical Fiction
MG/YA/A – YA
Series/Standalone – Standalone
Date of publication – 5th September 2019
Publisher – Andersen Press Ltd
Disclaimer – All Fall Down is based on The Black Death, the deadliest pandemic in our history. If you are not comfortable reading or knowing about a pandemic whilst in the midst of our current pandemic, this might not be the book and review for you.
Synopsis:
It is 1349 and the Black Death is raging across the country. No one can stop it. No one can hide from it, and everyone knows that sooner rather than later, it will come for them. For Isabel and her family living in the small Yorkshire village of Ingleforn, the approaching plague makes their small corner of the world smaller by the hour, and their only power against it is courage.
---
Thoughts:
People may be volleying remarks around along the lines of "why the heck are you reading and reviewing a book about a pandemic in the middle of a pandemic" but hear me out. I love history, I studied history, and I will always read anything about history that affected and still touches everyday people. I also like reading about periods of history that compare to our lives and this is partly the reason why I was suddenly drawn to All Fall Down. There is a similar fear and response which is relatable and can do one of two things: help me accept and rise above that fear, or fall into a deeper spiral believing all is lost.
Isabel's resilience and courage throughout the book reminded me that not everything has to be lost. We still have ourselves and our personal gifts and dreams to cherish and share with the world. It is that which keeps Isabel going as the world is falling apart around her and her siblings and if she can hold tight to her dreams, we can too.
Pandemic aside, the writing and general storytelling is this book's shining jewel. The prose is fluid and effortless, it doesn't over-complicate the history and the research that went into the story, and the pacing is consistent throughout. It's quite a short book at nearly 270 pages but that doesn't stop it from being the powerful, brilliant and heart-wrenching read I anticipated it would be.
---
Have you read All Fall Down?
What are your thoughts?
Is it a book you would read at this time, or would you wait until our own pandemic was under some semblance of control?