Hello!
If there is another great thing about this time of year for bibliophiles, it is that we start seeing reviews and other promotional activity for 2021 book releases. It is very exciting.
However I will admit right now that compared to previous years, there aren't many upcoming releases that grab my attention. So far I only have six books but maybe that will change when I get to properly browse a bookstore again.
NB: All the publication dates included for these books will be the UK dates.
The Mask Falling by Samantha Shannon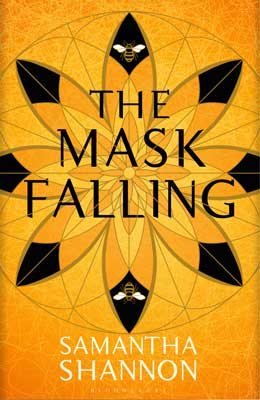 Paige Mahoney has eluded death again. Snatched from the jaws of captivity and consigned to a safe house in the Scion Citadel of Paris, she finds herself caught between those factions that seek Scion's downfall and those who would kill to protect the Rephaim's puppet empire.
The mysterious Domino Programme has plans for Paige, but she has ambitions of her own in this new citadel. With Arcturus Mesarthim – her former enemy – at her side, she embarks on an adventure that will lead her from the catacombs of Paris to the glittering hallways of Versailles. Her risks promise high reward: the Parisian underworld could yield the means to escalate her rebellion to outright war.
As Scion widens its bounds and the free world trembles in its shadow, Paige must fight her own memories after her ordeal at the hands of Scion. Meanwhile, she strives to understand her bond with Arcturus, which grows stronger by the day. But there are those who know the revolution began with them – and could end with them.
Publication date – 26th January
Witchshadow by Susan Dennard
War has come to the Witchlands . . . and nothing will be the same again.
Iseult has found her heartsister Safi at last, but their reunion is brief. For Iseult to stay alive, she must flee Cartorra while Safi remains. And though Iseult has plans to save her friend, they will require her to summon magic more dangerous than anything she has ever faced before.
Meanwhile, the Bloodwitch Aeduan is beset by forces he cannot understand. And Vivia—rightful queen of Nubrevna—finds herself without a crown or home.
As villains from legend reawaken across the Witchlands, only the mythical Cahr Awen can stop the gathering war. Iseult could embrace this power and heal the land, but first she must choose on which side of the shadows her destiny will lie.
Publication date – 22nd June
The Lost Apothecary by Sarah Penner
Rule #1: The poison must never be used to harm another woman.

Rule #2: The names of the murderer and her victim must be recorded in the apothecary's register.
One cold February evening in 1791, at the back of a dark London alley in a hidden apothecary shop, Nella awaits her newest customer. Once a respected healer, Nella now uses her knowledge for a darker purpose—selling well-disguised poisons to desperate women who would kill to be free of the men in their lives. But when her new patron turns out to be a precocious twelve-year-old named Eliza Fanning, an unexpected friendship sets in motion a string of events that jeopardizes Nella's world and threatens to expose the many women whose names are written in her register.
In present-day London, aspiring historian Caroline Parcewell spends her tenth wedding anniversary alone, reeling from the discovery of her husband's infidelity. When she finds an old apothecary vial near the river Thames, she can't resist investigating, only to realize she's found a link to the unsolved "apothecary murders" that haunted London over two centuries ago. As she deepens her search, Caroline's life collides with Nella's and Eliza's in a stunning twist of fate—and not everyone will survive.
With crackling suspense, unforgettable characters and searing insight, The Lost Apothecary is a subversive and intoxicating exploration of women rebelling against a man's world, the destructive force of revenge and the remarkable ways that women can save each other despite the barrier of time.
Publication date – 2nd March
Into The Heartless Wood by Joanna Ruth Meyer
Epic, heartbreaking, and darkly atmospheric, Into the Heartless Wood is the story of impossible love between a monstrous tree siren and a boy who lives at the edge of her wood.
The forest is a dangerous place, where siren song lures men and women to their deaths. For centuries, a witch has harvested souls to feed the heartless tree, using its power to grow her domain.
When Owen Merrick is lured into the witch's wood, one of her tree-siren daughters, Seren, saves his life instead of ending it. Every night, he climbs over the garden wall to see her, and every night her longing to become human deepens. But a shift in the stars foretells a dangerous curse, and Seren's quest to become human will lead them into an ancient war raging between the witch and the king who is trying to stop her
Publication date – 12th January
The Last Bookshop in London by Madeline Martin
Inspired by the true World War II history of the few bookshops to survive the Blitz, The Last Bookshop in London is a timeless story of wartime loss, love and the enduring power of literature.
August 1939: London prepares for war as Hitler's forces sweep across Europe. Grace Bennett has always dreamed of moving to the city, but the bunkers and blackout curtains that she finds on her arrival were not what she expected. And she certainly never imagined she'd wind up working at Primrose Hill, a dusty old bookshop nestled in the heart of London.
Through blackouts and air raids as the Blitz intensifies, Grace discovers the power of storytelling to unite her community in ways she never dreamed—a force that triumphs over even the darkest nights of the war.
Publication date – 6th April
Spells Trouble by P.C Cast and Kristin Cast
Double double, twins spell trouble…
Hunter and Mercy Goode are twin witches, direct descendants of the founder of their town of Goodeville. As their ancestors have done before them, it is now time for the twins to learn what it means to be Gatekeepers–the protectors of the Gates to different underworlds, ancient portals between their world and realms where mythology rules and nightmares come to life.
When their mother becomes the first victim in a string of murders, the devastated sisters vow to avenge her death. But it will take more than magic to rein in the ancient mythological monsters who've infected their peaceful town.
Now Hunter and Mercy must come together and accept their destiny or risk being separated for good.
Publication date – 25th May
---
And there they are. I am really excited and intrigued by these books, especially The Mask Falling as it has been a long time coming. Although, from things I've already heard I don't think I'm ready for it either. Yikes.
Do you have any anticipated releases for 2021? If so, what are they?
Thanks for reading and have a brazzle dazzle day!
xx