Hello!
It is time for Disney to be paired with books once again and for this post I wanted to dive into my sister's childhood favourite film – Pinocchio.
There were quite a few songs from the film I thought about using, but the one that struck me the most was "I've Got No Strings." It's all about being being free, not having anything tying you down, and that's such a strong characteristic for many characters especially if they come from challenging backgrounds.
As always, three characters and books come to mind so let's get going:
Paige from The Song Rising by Samantha Shannon
It has been a few years since I read this latest instalment of the Bone Season series but if there is one thing that struck me, it is how Paige has come into herself and broken away from the ties pulling her towards Jaxon Hall and her old life. She is Underqueen and she is determined to change how the world thinks about clairvoyants, moving from place to place until she achieves her goal. It's such a stark difference from the Paige we first see in The Bone Season who always has strings pulled by Jaxon, Nashira, and anyone else inside Sheol I or Seven Dials.
Paige's determination to change opinions and bring down the oppression towards clairvoyance is one of my favourite things about this series and why it is always on my to-reread pile. The Song Rising was a little brief in comparison to The Bone Season and The Mime Order but if you like dystopians with a little dose of fantasy, and some rather complex characters, I highly recommend giving it a shot!
Diana from A Discovery of Witches by Deborah Harkness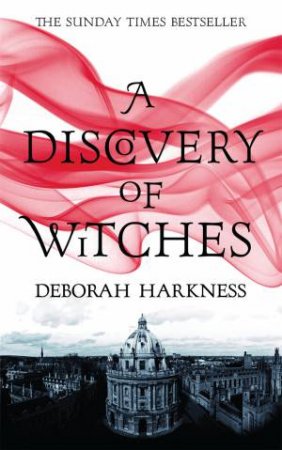 I realise this is the second time A Discovery of Witches has appeared in a Bibbidi-Bobbidi-Books recommendation post, but I can't talk about this book and series enough, and secondly, Diana's progression in this first instalment is very much connected to the ties that bind. Her magic, or use of magic, is very different to other witches around her and it is only when certain discoveries are made that we understand why. Besides, Diana pushes it all to the limits and showcases how much she can do without strings to hold her back! I love it and it's why I personally love Shadow of Night in the trilogy because you see Diana become more confident with her magic and experience a certain element of freedom.
Bea from Under A Dancing Star by Laura Wood
If I'm sticking to the idea that "I've got no strings" equals "freedom" then I can't think of a more apt character and book. Bea is from a very conservative, aristocratic family in 1930s England. She is a young woman who speaks her own mind and isn't afraid to be daring. This is oil and water – they do not mix. On a suggestion from Bea's parents, she is sent to her uncle's villa in Italy, and much to Bea's surprise when she arrives, is free to spend her days doing whatever she wants. She can't believe it and it allows her to be the witty, smart, bold, outgoing character she wants to be. I love that she embraces life without strings and lets it influence how she wants her life to be on returning to England.
---
And there we go.
Three characters and books inspired by "I've Got No Strings" from Pinocchio. Also three books and series I absolutely adore with my whole being! I don't say that often, but when it comes to these I mean it!
---
What are your thoughts?
What books would you have chosen for this song?
What other songs would you like to see featured in this series?
As always, thanks for reading and have a brazzle dazzle day!
xx