If there is one thing I now like about my sister being a reader, it is that there is another bookcase to peruse and raid when I'm looking for something different to read and I'm not in the mood for my own books. It's also nice as all her books are primarily Middle Grades (UK Key Stage 2-3) and Graphic Novels so I certainly have a wider variety of books to choose from!
I'm always browsing her shelves so here are five books I'm raring to put on my bedside table book stack!
Raybearer by Jordan Ifueko
A recent addition to her shelves and a YA one at that, which is unlike my sister. However, I'm personally grateful as I've heard nothing but good things about it and I'm certainly intrigued. I also love that it is the first in a duology so if I read and love it, I won't hesitate to find the sequel and personally buy both for my own shelves.
The Secret of Platform 13 by Eva Ibbotson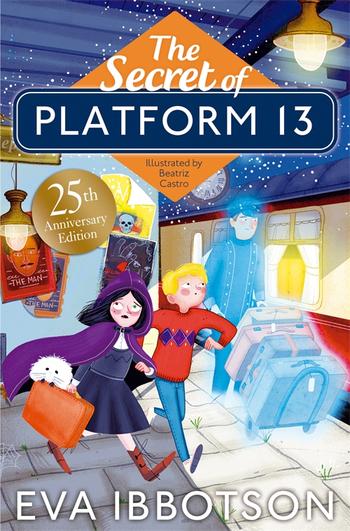 For a book that was published in 1994 so was there for me to read as a child when I was ready for it, I'm surprised this book never came onto my radar until a couple of years ago. From what I know it boasts a few similarities to Harry Potter and the whole secret platform at London's Kings Cross and is filled with magic so it should be a fun read.
The Castle of Tangled Magic by Sophie Anderson
My sister has all three of Sophie Anderson's current books on her shelves and I'd read all of them but this is the one that I suppose speaks to me the most. It's based in a castle with a lot of secrets and our main character Olia is the only one who can access them. It sounds magical and I know that once I read this one, I won't hesitate to read The House With Chicken Legs and The Girl Who Speaks Bear because even though they're separate books, they're all part of the same universe which I like a lot.
A Clock of Stars: The Shadow Moth by Francesca Gibbons
If the cover didn't already attract me to this book, then the online synopsis certainly has – "with all the magic of Narnia and the humour of Mary Poppins." I LOVE both of those things, and so does my sister. I can guarantee that if she reads this before I do, it will be a book she throws onto my bed and makes me read.
The Ship of Shadows by Maria Kuzniar
I'm not usually one for pirate books but I like the sound of this one. The MC Aleja is a dreamer, wanting magic and adventure that she only ever finds in books as she's always told that girls can't be explorers. However, the fabled vessel The Ship of Shadows comes along, crewed by a band of women and it wants Aleja to come aboard. There's magic, strength, courage and everything I like in a Middle Grade.
---
And there we have it.
If you have access to another friend or family's bookcase, what books would you like to borrow and read?
Thanks for reading and have a brazzle dazzle day!
xx