Hello!
It has been a good while since I've had any true desire and motivation to blog again but after spending the majority of the weekend tweaking layouts, headers and thinking about what drew me to blogging in the first place, I'm now starting to feel the slump disappearing. It will probably be a while until I have some major batch writing sessions but consider this the start of me trying to get a little bit more regular with the writing again.
As I've not posted anything since my 2022 Reading Resolutions TAG and there hasn't been much of a monthly wrap up, I thought I'd come back with a roundup of what I've been reading and attempting to read since the beginning of the year!
Buckle up because this might turn out to be a long post!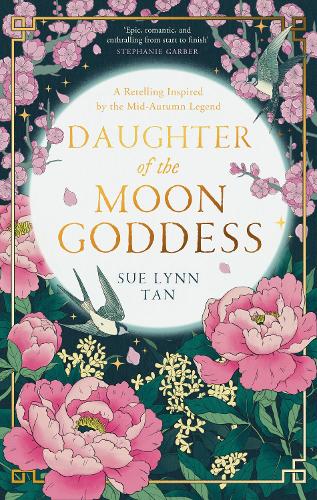 I might as well start with what I'm currently reading which is Daughter of the Moon Goddess by Sue Lynn Tan, book 1 in the Celestial Kingdom's Duology. I'm not very far through this at all, somewhere around the 50-page mark I think, but I am liking it. The prose is beautiful and lyrical, and I'm intrigued to see how the story develops especially as I know NOTHING about Chinese mythology and this is one of the first times I've ever really read anything Asian inspired. It's a book I'll certainly be savouring and reading slowly so don't expect me to be coming out with a review very soon. As I'm writing this, the second book in the duology – Heart of the Sun Warrior – has just been announced for a November release and it sounds just as glorious so that is motivation enough to continue reading and hopefully enjoy this first instalment.
Now for some finished reads:
Summer at Hope Meadows, Christmas at Mistletoe Cottage, and Springtime at Wildacre by Lucy Daniels, books #1 #2 and #3 in the Hope Meadows series.
I felt a little slumpy before picking up this series and I'm so glad I did because it was the perfect, cosy start to my reading year, falling back into a setting and scenarios I've not explored for YEARS! The original books based out of the Animal Ark veterinary practice in Yorkshire (I'm guessing the Dales), following Mandy, James and Mandy's vet parents were always in my library stacks and I Ioved them. Now Mandy's a vet herself, she's returned to Animal Ark after a year's stint in Leeds and she wants to follow her own dreams, and I've been relating to that a lot lately. The only difference is she's sure, mine come with a huge amount of self-doubt and anxiety. DIgression aside, I'm loving exploring Mandy's character as an adult and seeing how her relationships with side characters adjust and grow both personally and professionally. I'm sucker for animal books like this too (I may talk about All Creatures Great and Small once or twice), so it is not surprising I've really liked these. Now I just need to find the later books in the series to read!
Moonlight Cove (Chesapeake Shores #6) by Sherryl Woods.
This return to the family-orientated, romance-based Chesapeake Shores series, which I discovered around this time last year after watching a couple series of the Hallmark show, did not disappoint. This instalment follows Jess, the youngest of the O'Brien siblings, as she works through her feelings about being in a relationship and particularly with Will, a guy she's known her entire life. He's adamant, she's scared, and I really like and appreciate how it all developed.
However, I seem to have one issue in every book of this series and this time it is that the author feels the need to mention Jess' ADD in, what seems like, nearly every chapter. We know it is an important part of her, it shapes how she thinks and does things, but to me, that constant name dropping (if that is the right way to describe it) is excessive. Nonetheless, I still like the book as a whole and I am wanting to read more of the series.
The Revelry by Katherine Webber.
I should have left this on my shelves for a while because I was really not in the mood to read this. I don't quite know what possessed me to read it almost straight away but I did and I now can't quite figure out how I feel about it. I finished it so from my own personal rankings, I do quite like it, the overarching concept of the revelry is intriguing and the friendship between Bitsy and Amy is explored well, but I didn't feel the pull and tension I expected. I am putting that down to me rather than the book because I know for a fact that when I'm in more of a thriller/high-stakes mood, I would LOVE it! It's just one of those things and it teaches me a valuable lesson I should actually know by now – LISTEN TO ONE'S READING MOOD, AND NOT GET DISTRACTED BY WHAT EVERYONE ELSE IS READING!
Princess Princess Ever After by Kay O'Neil
Despite what it looks like this graphic novel was in keeping with my reading mood because I wanted cosy, heartwarming, easy to read and I felt that when reading this but I don't love it. Yes, the art style is engaging, accessible, and really well done, I like Amira and Sadie as characters and their growth in such a short story, but it isn't the right one for me. It feels a little underdeveloped for my liking, and I think Sadie's sister is a bit petty as a fairytale villain goes. Then again, it's a Middle Grade, and as a nearly 30-year old reader bookworm, I am obviously not its target audience. Younger readers will probably like it and there are important messages and lessons to learn so it has its place. I'll just look elsewhere for other graphic novels to explore and read.
Lumberjanes vol.1: Beware the Kitten Holy by Noelle Stevenson and other authors and illustrators.
My sister LOVES this series of graphic novels, and in fact, it gave her an accessible medium through which she could enjoy reading again, so that along with it constantly being included in graphic novel recommendations, encouraged me to finally pick it up. Thankfully I've now caught the bug for this series and I want to read more! It is fun, adventurous, crazy, full of friendship and magic antics. What's not to love!? I read this first book on iPad but I think I might start poaching the physical editions from my sister's shelves so she better be prepared to see them temporarily appear in my room whilst I catch up, and I have a long way to go!
---
As this post is long enough I won't go into the DNFs in too much detail. There are only two over this last month – Highfire by Eoin Colfer and City of Lies by Sam Hawke. Highfire is NOT the book for me and I really didn't enjoy it. City of Lies is just a casualty of my reading mood. I shelved it and will pick it back up when I feel like reading political fantasy again.
---
There we have it!
Let me know in the comments what you've been reading recently!
As always, thanks for reading and have a brazzle dazzle day!